Back in the spring of 2010, when I was living in Paris as Columbia University's premier and only puppet researcher, I got a hundred euros from the university for the express purpose of traveling to Lyon and looking at puppets for a day. Seriously! I was so touched and thrilled at this stunning departure from their normal stingy-butt universityness* that I will generously refrain from mentioning that they did not pay for me to stay there overnight - nor, might I add, did they pay for my brioche. Although perhaps there was a good reason for this. Perhaps there is a clause in the Official University Stingy-Butt Charter that goes something like this:
Ye Olde Universitye Stingy-Butte Chartere
of
Columbia University in the City of New York
interred 1825
no Discover cards
"Ad hoc furcifer pestis sternum" (= "Superrific Dry Cleaning While-U-Wait")**
ARTICLE XVXVIIIIFFVLLLMX***:
Thou shalt not pay for a student's brioche, because the student might enjoy it, duh. This is not a chance thou canst afford to take.
But I got to go to Lyon, anyway, and I got to see the Musée Gadagne, which consists of two parts. As an academic researcher, I am thoroughly versed in scholarly analysis; thus, I am able to break down these two parts of the museum as follows:
the Puppet Part
the Boring Part That Has To Do With Other Stuff
No, in all seriousness, both parts are pretty interesting. The latter part is actually devoted to the history of Lyon. Because of my limited time there, I didn't get much of a chance to see the Lyon part, but I know all about the history of France anyway, thanks to a wonderful history professor who, come to think about it, mostly just chatted with me about Tintin books. So the history of France as I understand it involved some seafaring, an encounter with the Abominable Snowman, and a missing emerald, and it was all drawn by a Belgian. (Write this down, children.)
At any rate, the puppet part of the museum was fabulous. Lyon is the birthplace of Guignol, an iconic little puppet guy who embodies the rich French cultural tradition of bashing people over the head with a stick. Oh, sure, they TRY to keep quiet about their beloved national pastime, but seriously, you wouldn't believe the carnage that goes on every day behind closed doors at the Élysée Palace.
Up and down the streets of Lyon you see scads**** of stores selling Guignol T-shirts, mugs, toothbrushes, toenail clippers, catheters, etc. Obviously Guignol is something of a local superstar, a bit like Justin Bieber, only more virile.
Here is a portrait which hangs in the Musée Gadagne, depicting Frédéric Josserand, a founding father of Guignol. In all seriousness, I have to say this is probably my favorite portrait in the world. I can't tell you how happy it made me: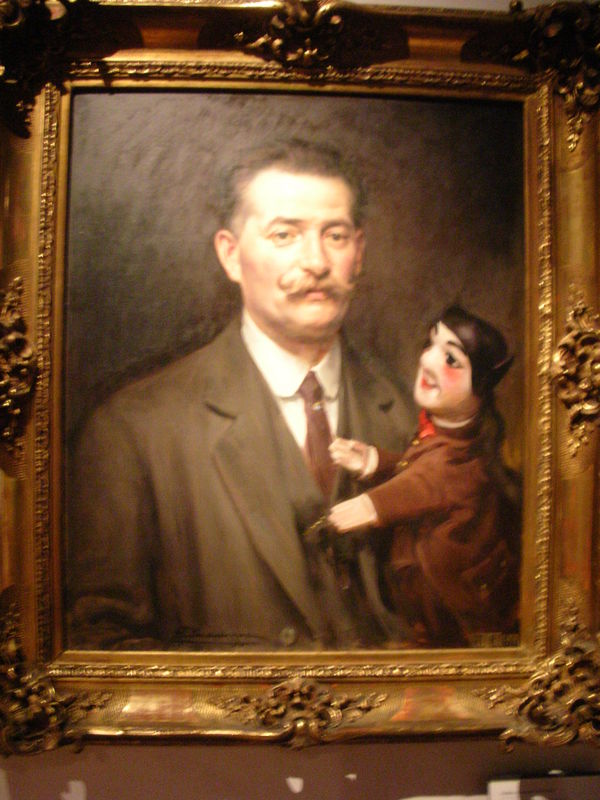 Next up is a cellist unlike any other. I mean, can you imagine the looks he must get in the conservatory cafeteria?
And here is L'Enfant from Ravel's L'Enfant et les Sortileges, a piece that, if you haven't heard it, you must. (Dead serious. Hear it right now. It is 42 minutes inexpressibly well spent.)
A poster from one of the shows of Jacques Chesnais, a well-known puppeteer from Paris who performed in the early 20th century. I'll blog more on Chesnais and his work another time.
Other assorted friends of mine whose acquaintance I made that day at the Musée ...


And, finally, the pièce de résistance (meaning "piece of resistance") of my photographic collection: these wacky and fun-loving Dutch marionnettes. Suffice it to say it's always a party with these folks around:
So if you're in Lyon, or you're planning a trip there, I highly recommend a visit to the Musée. It's small, but full of fascinating things, and I only wish I'd had the chance to explore it longer. Therefore, when you go on your own trip, I urge you, as a devoted academic researcher of the puppet arts - I urge you, from the very bottom of my heart - to have Columbia pay for it. If you can possibly figure out a crafty way, add a brioche or two to their tab.
* I have graduated, so now I can say this. Nyah nyah nyah nyah nyah nyah.
** This is what it says on my diploma. No, you are not allowed to see. Get your own.
*** Forty-twelve.
**** Scads is a metric unit. 1 scad = 5.4 humdingers.